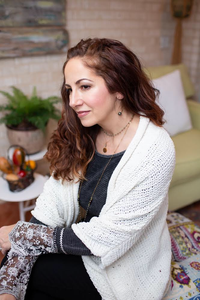 I debated on whether I wanted to blog on my latest health journey for a few weeks now, but ultimately decided to do it. Of course, here I am right? If it will help someone else not feel alone in their battle with cancer, then it will be worth it. Also, if something I have learned on this journey can help someone else then even better. Not to mention my family and friends can stay updated along the way. 
Back in November of last year I found out that my ovarian cancer had returned. My CA125 cancer marker had escalated which was an indicator it was somewhere in my body. Devasted does not even come close to describe what I felt in that moment of finding out the news. We had adopted JD in January of last year and he needed his mama to be healthy. I knew in my heart that God would get me through this battle, but my mind was being attacked by Satan. For a few weeks it was a battle of the mind.  Thoughts of me leaving this earth came to mind and as I would rock JD to sleep at night, I would silently cry tears of fear and sadness. I could not bear the thought of leaving him on this earth without his mama.  At some point during those few weeks through prayer I made a decision to fight, not only the thoughts but the cancer. By the stripes of Jesus, I would be healed!  I had hands laid on me at church and healing was called on through the name of Jesus. In that moment I felt the power of God touch me and I knew without a doubt I would be healed from cancer either instantly, gradually or through other means. I didn't know how, but I knew it would manifest in my body one way or the other. 
December 13, I had a laparoscopic surgery to biopsy the tumor in my abdomen. To the doctors surprise the tumor had disappeared. My oncologist at the time was shocked and had no explanation for it.! Praise Jesus! This was our Christmas Miracle! We had a wonderful Holiday for JD's first Christmas. 
Fast forward 2019 rolls around and I go to have a colonoscopy at the recommendation of my oncologist and low and behold the cancer showed up in the colon. I knew God had touched me December 2nd at church and I knew that he removed the tumor in my abdomen, so I was  confused as to why this was happening. I threw myself back into healing scriptures as I did before, and I continued researching natural holistic cancer approaches. My current oncologist was not on board with any integrative therapy at all, so I knew I had to find another oncologist that lined up with my beliefs. Through lots of prayer and research I was led to Dr. Dudley at Tennessee oncology. He is a Gynelogic Oncologist and from what I had read about him I felt the holy spirit nudging me to go meet with him. After my first appointment I knew I had found my new doctor. He put me together a chemotherapy plan and was also open to me doing some holistic therapy. 
Before I committed to conventional chemotherapy, I wanted to see what I could accomplish holistically. I started doing some high dose Vitamin C, and B17 in town but ultimately decided to go to a holistic clinic in California. It had all the modalities I had studied and researched under one roof so me, my hubby and son packed up and headed to California. Dr. Dudley was supportive of my decision and I kept him informed of my holistic treatments there. We stayed for almost two months doing many holistic cancer treatments as I learned more and more about a more integrative approach to cancer. They also did a low dose chemo treatment there called IPT. On my first IPT treatment I received a drug called Avastin. One of the possible risks of this drug is perforating the colon. Well you guessed it, it perforated my colon, putting me in the hospital for a week. I had to go on TPN nutrition through an IV and could not eat or drink anything for two weeks. This was one of the hardest things I've experienced because your brain can't comprehend not eating or drinking for two weeks even though you are getting nutrition through an IV….. Tell your stomach that! Haha! Wow it was tough! After I was stable, and my colon had healed I still had to continue the TPN but was allowed to do a liquid diet. This went on for another two weeks before deciding to return to Nashville. I felt that I wanted to be under the care of my oncologist if I was going to be dealing with this added difficulty of TPN and the state of my compromised colon. After returning home I began to introduce more solid foods into my diet and within a couple of days I was right back in the hospital. The colon was not perforated this time, but it was however very inflamed causing a lot of pain, so I had to be in the hospital for a week on antibiotics with no food. Since last November It seemed I would take two steps forward and then three steps back. The knock downs were getting exhausting and some days were harder than others, but each time God pulled me out of the dark and back into the light. What I have found is that in these times of struggle I have to dig deep into the word of God and literally saturate myself in it. After all it is healing to our flesh and our bones. In my heart I knew this to be true even though somedays my mind struggled. 
Three weeks ago, I started Chemotherapy treatments with Dr. Dudley.  Through the knowledge I gained from hours and hours of studying, reading books and my time in California I collaborated with Dr. Dudley to put a integrative plan together to couple with my chemo. I go to Intravenous Solutions in West Nashville twice a week for what's called a Meyers Cocktail (vitamins and fluids), Glutathione and high dose vitamin C. I also order mistletoe extract from the cancer clinic in California and have my Mom inject me three times a week with this. Mistletoe is one of the most researched and proven natural cancer therapies around. It has been used in Europe for years with much success both alone and alongside Chemotherapy for many types of cancer. It's amazing!! I will talk more specifically about all these therapies in future blogs to come. 
I'm excited to report God has shown me a light at the end of this tunnel. Even though this week I am losing my hair, I am still rejoicing. My CA125 cancer marker level has already dropped by more than half. Three weeks ago, it was over 1500 and today it is 488. Normal range is below 35 but I know I will get there soon. Dropping this drastically in this short of a period of time is amazing and proves to me God led me to my new oncologist and to these integrative therapies that will ultimately take me to cancer free status. On the days when I did not see the light, I had to focus on the light that I knew would come and put my faith in that. Today this light is shining bright and I can physically see the manifestation of the healing in my body taking place. 
Psalms 23:5 Thou prepares a table before me in the presence of mine enemies: thou anointed my head with oil; my cup runneth over. 
While in the midst of this health battle I remind myself that God is preparing me a table of health and wellness. I believe this with all my heart, and I know a table is being prepared even when on somedays I can't see it. This is a new battle for me in this season but I still have the same Jesus inside me to fight the battle. If you are going through a health battle yourself, I encourage you to read every healing scripture in the bible over and over until it gets deep within your spirit. Your mind can always sway but God sees your heart and once those scriptures are engraved on your heart Satan can't touch you. 
                                          Memarie 
Proverbs 4:20 
My child, pay attention to what I say. 
Listen carefully to my words. 
Don't lose sight of them. 
Let them penetrate deep into your heart, 
For they bring life to those who find them, 
and healing to their whole body.