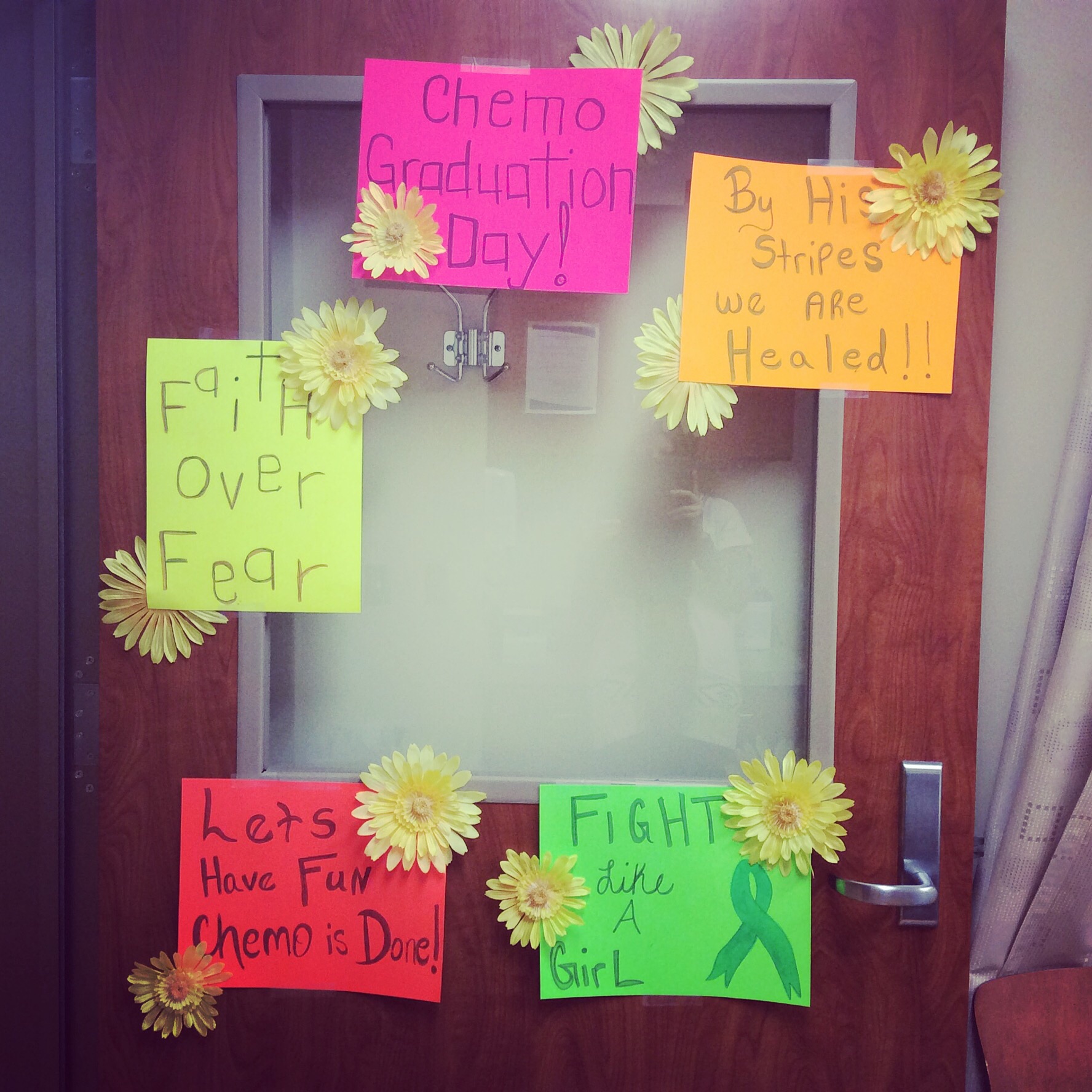 I finished up my last chemotherapy treatment last week and I cant explain the weight that has been lifted. You can talk to other people who have been through it but until you experience it for yourself you really do not understand it. I wanted to share with everyone a few unknowns that I learned through the journey of Chemotherapy in hopes of helping prepare others who might have to go through it. I can really only speak to those who will undergo ovarian cancer treatment. There are some simularities in various chemotherapy drugs but some of the side effects are different. So in saying that, I can only tell you what I experienced with my IP treatment and IV treatment for ovarian/uterine cancer.
One of the things I did not anticipate was all the odd things that happen in your body. Everything basically is out of whack. You have unexplained aches and pains throughout your body. Muscle aches and also pockets of soreness under your skin in various places all over your body at different times. I come to realize this was the toxins getting trapped and trying to move through me. The biggest thing that helped this was my epson salt and baking soda bathes everyday. If I had a lot of soreness I would take two a day somedays. Get ready this will make you sweat, but its the best thing for you. The IP therapy fills your abdomen with the chemotherapy drug and also an additional liter of fluids. For the first treatment I took all the fluids but soon found out this was too much for me. I was soooo full, the pressure was too much on my chest and heart and my oncologist ordered to have the additional fluid left out. I would say that if you are feeling any pressure on your chest or shortness of breath on your first treatment to let your oncologist know ASAP. They will either cut the additional fluid out completely or cut it in half and that will help you soooo much.
Unexplained heart racing, chest tightness or even pain. I had all of these symptoms after my third treatment. Some of the Chemotherapy drugs do tend to make you heart race and even raise your blood pressure. If you ever feel any tightness or pain in your chest call your Doctor ASAP! I had to make an emergency room visit and found out I was low on potassium and also magnesium. My oncologist resolved this by having me take supplements throughout my treatment and I was fine.
I almost left this one out because it is sooo rare, but I feel I need to continue with open honesty. On my last treatment of Cisplatin Chemotherapy through my IP port I had an Anaphalaxic reaction. I was fine for all my other previous treatments, but apparently I built up an allergy to this drug. Evidently this has literally only happend one time documented in the medical books for this particular drug when given through IP. My first symptom was running nose and itchy eyes. If this happens during Chemotherapy buzz the nurse immediately. I did not because I thought it was seasonal allergies. When my lips began to swell I buzzed the nurse. My throat and tongue started to swell very fast after that, but the nurses were on top of it and got it under control to stop the reaction before it got worse. My take away from this is, if you have any change at all in your body during treatment call the nurse. It could save your life!
Another obstacle I did not participate was all the fluid your body holds and also weight gain. You always hear of people loosing weight through Chemotherapy treatment but I had never heard of weight gain. I believe that for some people who have a more progressed cancer, they loose weight because of the cancer itself, not the Chemotherapy. Don't get me wrong, there are some who loose weight from chemotherapy if they get extremely sick from nausea etc… but so many gain, as I have found out. With my therapy they had me taking lots of steroids which of course puffs you up and can make you gain weight. My oncologist said its better to gain than to loose because you want your body to remain strong to fight and if you loose even a few pounds it weakens you and can cause you to miss some of your treatments. Your goal is to not miss any treatments! Needless to say she was happy with my weight gain. Me?…..not so much! haha….In saying this I will recommend to you that you should eat every three hours during your treatment weeks. When you are nauseous the last thing you want to do is eat, but I found if I forced myself to eat every three hours it helped with the nausea. When you are taking the chemo drugs it tends to cause lots of acid in your stomach and keeping something in it helps a lot. Even if its just to eat a few crackers, you need to force yourself. Like I said, it is better to gain than loose and if you get in the habit of not eating just because you feel nauseous you will loose weight because you are nauseous a lot. Take my word and eat, eat eat….One of my go too's was my protein Juice Plus Complete smoothies. When I could not eat anything else I could still drink a smoothie. I completely lost my appetite for meat, especially red meat so peanut butter became my best friend for protein. If nothing else peanut butter with crackers and "Juice Plus Complete" shakes will get you through those rough days and keep you healthy.
Lymphedema was another bump in the road I was not prepared for. The doctors do not really talk about this to you. I understand they are focused on treating the cancer and there is a lot on their plate just concentrating on that alone. I would tell you that if you have any type of cancer treatment…Surgery, Chemotherapy or radiation you are at a significant risk for Lymphedema unfortunately. The key is treating it early when you see the first signs of it. To give you a quick run down of what Lymphedema is…its when the lymph nodes get overloaded and cant filter well. Our Lymphatic system is like our bodies personal vacuum cleaner. It filters toxins etc… out of our system. When I had my surgery my oncologist took out lymph nodes to test for cancer, leaving me with less than the good lord gave me, so of course the body has to work harder in those areas to filter. My lymph nodes were taken from my pelvic area, putting me at risk for lymphedema in my legs. Lots of breast cancer patients get lymphedema in their arms. Mine is in my right leg. I will get swelling in my leg if I'm on my feet a lot, especially standing in one spot. Im currently getting lymphatic drainage massage which helps. If I had known to look for this condition from the beginning I would have started the massage earlier to hopefully prevent it. I would recommend anyone going through cancer treatment to keep a close eye on the limbs that could be effected and look for the slightest swelling so you can jump on treating it early early early. This is considered a life long condition with no cure, only maintenance, so do not let it go untreated. I believe I will get my Lymphedema under control and God will help me through this just like he did with cancer. I caught it fairly early, so I am keeping the faith that it will be reversible.
I hope this blog will help anyone going through cancer treatment and give you a heads up on a few things that you do not hear talked about very often, but can surely effect you. Mind over body is the biggest most powerful component of your cancer treatment process. Through the stripes of Jesus on the cross we are healed. Believe this and make it your truth! God wants us to be healthy and be warriors for him!